Meet Dr. Shah
Medical Director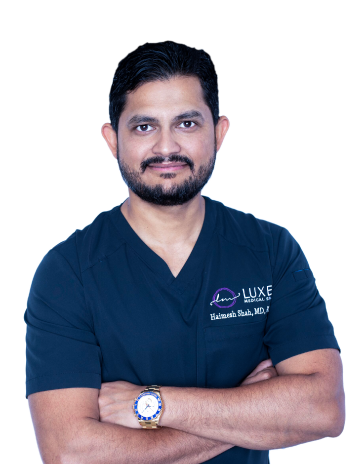 Dr. Shah is a board-certified physician, specializing in Cosmetic Surgery, and Phlebology. He is a highly experienced physician with expertise in Hi-Definition Liposuction Surgery, Body Contouring Surgeries, and Venous Disorders.
Dr. Shah utilizes an individualized approach for all of his patients, providing unparalleled extensive insight into their treatment plan. He is well trained in medical and cosmetic vein procedures, non-surgical facelifts, liposuction and body contouring techniques, autologous fat grafting, having learned them directly from nationally and internationally recognized cosmetic surgeons.

Given his vast knowledge base, he understands the importance of choosing the right treatment plan that will fulfill your medical and/or aesthetic needs.
Dr. Haimesh Shah is Triple Board-Certified
Dr. Shah is a diplomate of the American Board of Laser Surgery and American Board of Venous and Lymphatic Medicine. He is one of the few physicians nationwide who is certified by the American Board of Venous and Lymphatic Medicine, demonstrating expertise in the understanding and treatment of venous conditions. He is a Registered Physician in Vascular Interpretation (RPVI), certified by American Registry for Diagnostic Medical Sonography.
Dr. Shah serves as a Medical Director for the Center for Vein Wellness and Luxe Aesthetic Surgery & Medical Spa. He has served as a Medical Director for the Hyperbaric Medicine and Wound Healing Center at St John's Hospitals in Camarillo and Oxnard from 2013 to 2018. The center is a recipient of the Center for Excellence Award in 2015.
Following graduation from medical school, Dr. Shah worked as a Clinical Research Fellow for 2 years with the Division of Cardiothoracic and Vascular Surgery at University of Southern California. He then began his training in General Surgery at University of Southern California and then moved to New York for Internal Medicine training at Weill Cornell Medical College Affiliate Program. In 2011, Dr. Shah returned to California to begin his practice. Dr. Shah is also a diplomate of the American Board of Wound Management and the American Board of Internal Medicine. His research has been published in a number of peer-reviewed journals.
He is a member of the American Academy of Cosmetic Surgery, American Society of Cosmetic Breast Surgery, American College of Phlebology, and American Society of Laser Medicine and Surgery.
Dr. Shah currently serves as a Board Member for the St John's Healthcare Foundation. He is a staff member at St John's Regional Medical Center (Oxnard), St John's Pleasant Valley Hospital (Camarillo) and Los Robles Hospital and Medical Center (Thousand Oaks).